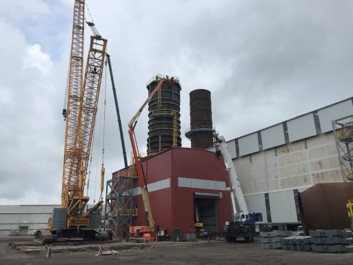 US Steel and Lexicon, Inc
EAF Miscellaneous Support Projects for US Steel and Lexicon, Inc.
In collaboration with US Steel and Lexicon, Inc., RTP undertook a series of critical EAF support activities as part of the installation of the new EAF project at the Fairfield, AL Works facility. After the facility's idleness for around three years, RTP was contracted to provide comprehensive engineering services, while Lexicon, Inc. handled the installation.
The scope of work included various vital projects, such as the Electrical Power Distribution, Lighting, Truck Scale Arrangements & Radiation Detectors for the Scrap Yard, the EAF Alloy Dust Collection System, LMF/VTD Off-Gas System, EAF Dust Loadout System, EAF Baghouse Air Compressor System, EAF Off-Gas Radiation Detection System, EAF Slag Spray System, ASU Plant Utility Coordination, EAF E-Stop Design Modifications and Panel Designs, Level I & Business Network Design, and Ladle Tracking System.
To ensure seamless project execution, RTP provided a wide array of engineering services, starting with comprehensive project engineering and field investigation. Our team meticulously developed process designs, demolition drawings, and general arrangement and layout drawings. Foundation designs and drawings, as well as structural designs and drawings, were carefully crafted to ensure structural integrity.
The project also included the development of a new network diagram, equipment specifications, bid packages, proposal evaluations, and purchasing recommendations. Ensuring smooth coordination, RTP managed vendor designs and deliveries, guaranteeing timely and efficient project progress.