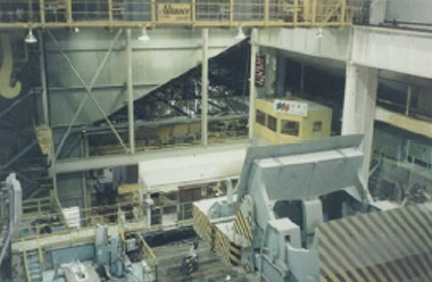 Modernization of Mansfield Steel Operations into a Cost-Efficient Mini-Mill
RTP led a groundbreaking project to transform Mansfield Steel Operations into a state-of-the-art mini-mill facility, with the aim of becoming a low-cost producer of carbon hot bands while also enabling the production of stainless and silicon steels. The project involved the replacement of existing ingot teeming, ingot soaking, and primary ingot rolling facilities with advanced slab casting and direct hot charging technologies.
The scope of work encompassed a wide range of critical tasks and services. Our team conducted thorough field investigations to assess the existing infrastructure and determine the feasibility of the modernization project. We developed comprehensive general arrangement and layout drawings to optimize facility design and streamline operations, ensuring the efficient flow of materials and resources. Maintaining a critical path method (CPM) schedule, RTP meticulously managed the project timeline and facilitated its smooth execution.
RTP provided dismantling and relocation drawings and specifications, ensuring a seamless transition from the existing facilities to the modernized setup. Our team designed foundations, structural steel, and architectural elements through detailed drawings, guaranteeing the integrity and functionality of the new infrastructure. Process and utility piping design and installation drawings were developed to optimize material flow within the facility, while precise electrical system designs ensured safe and efficient power distribution. Additionally, RTP prepared installation specification packages and building permit drawings, adhering to regulatory requirements, and facilitating a smooth approval process.
Throughout the project, our team provided comprehensive construction assistance, construction management services, and project management services to oversee and ensure the successful execution of the modernization project. The transformation of Mansfield Steel Operations into a cutting-edge mini-mill facility was successfully realized, and resulted in improved cost-efficiency, expanded product capabilities, and enhanced operational performance.