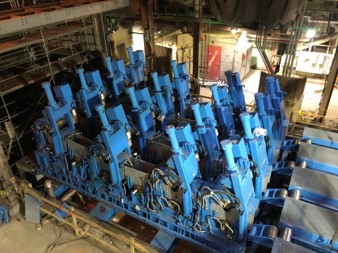 US Steel and Lexicon, Inc
RTP's Rounds Caster Restart and Capital Equipment Improvements for US Steel and Lexicon, Inc.
In close collaboration with US Steel and Lexicon, Inc., RTP took part in an ambitious project to upgrade the existing 4-Stand Rounds Caster at the Fairfield, AL Works facility. After being idled for around three years, the facility was poised for a restart and the implementation of new capital equipment improvements by SMS Concast.
The extensive list of improvements included the installation of New Cartridge Molds, Mold Level Detection System, Mold Electro-Magnetic Stirring System (MEMS), Hydraulic Oscillator, Modified Secondary Cooling System, updated Hydraulic Controls for Withdrawal Straightener, and New Withdrawal Straightener Units with Multi-Point Unbending, among other crucial enhancements.
RTP's role in this project involved providing meticulous installation engineering services to ensure the successful integration of the upgrades. From field investigation and inspection to demolition drawings and general arrangement and layout drawings, our team covered every aspect of the project. We developed foundation modifications and new foundation drawings, conducted structural repair drawings, and created new structural drawings to ensure structural integrity. To enhance operational efficiency and safety, RTP also designed a new Turret Loadside Platform and Ladle Slide Gate Hydraulic Control System.
Throughout the project, RTP provided comprehensive construction assistance, ensuring seamless project execution and adherence to quality standards. The successful Rounds Caster Restart and Capital Equipment Improvements project stand as a testament to RTP's commitment to excellence in engineering and customer satisfaction.