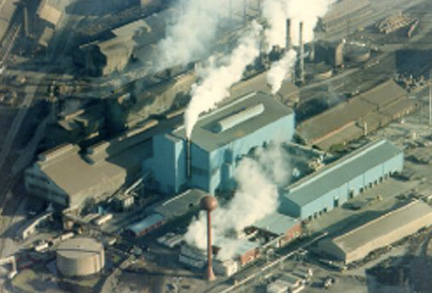 Installation of Two Independent Slab Casting Machines with Support Facilities
RTP spearheaded a comprehensive project to install two independent continuous slab casting machines, accompanied by associated support facilities, achieving an impressive annual production capacity of 3.3 million tons. Additionally, this endeavor involved integrating an LMF (Ladle Metallurgy Furnace) facility into an existing complex and modifying the existing Q-BOP (Quenching and Self-Tempering of Bars and Rods) facility to enhance its average heat size.
The scope of work encompassed a wide range of activities and services, including demolition, relocation, and site preparation, renovation of existing mill buildings, construction of new mill buildings, modifications to the Q-BOP Shop, and the installation of various essential facilities and equipment. These included slab skimming stations, ladle preparation facilities, LMF facilities, crane upgrades, new crane girders, slab casters, cranes, power distribution system upgrades, a fully automated control system, a metallurgical lab, tundish repair, slab slitting, shipping, and water treatment facilities. The project also involved the construction of computer and control rooms, auxiliary buildings, roadways, and a building ventilation system.
RTP's involvement in this ambitious project extended to project management, construction engineering, and design. We provided a comprehensive range of engineering services, such as feasibility studies, appropriation cost estimates, project engineering, design engineering (civil, electrical, piping & instrumentation), specification writing, expediting, cost control, construction management, and check-out and start-up assistance.
This project resulted in the installation of advanced continuous slab casting machines and facility upgrades. The transformed production facility now boasts increased capacity, improved operational capabilities, and enhanced technological efficiency, positioning the client for greater success in their industry.