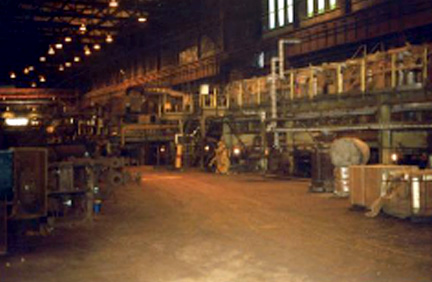 Enhancing Productivity and Quality Control for a Pickle Line
RTP executed a project to modify an existing pickle line, incorporating mechanical and electrical upgrades to optimize productivity and quality control. The project involved various enhancements, including increased line speed, expanded looper car capacity, improved tracking and tension control, upgraded drive packages, control systems, and diagnostics. Quality control measures necessitated the replacement of pickle tanks and the implementation of a new solution control system.
Due to the line's critical role in supplying products to other mills within the corporation, a narrow outage window necessitated innovative methods for replacing pickle tanks, increasing looping car capacity, and minimizing electrical work on the critical path.
RTP's scope encompassed developing a comprehensive feasibility study, including preliminary cost estimates, construction schedules, and outage schedules. Project management was a key aspect, involving structural inspection, repair recommendations, specification development, technical evaluations, scheduling, and cost estimation.
Our multi-disciplinary approach included installation engineering for various aspects such as single line diagrams, conduit layouts, lighting, general arrangements, motor sensor lists, cable tray layouts, demolition plans, and staging drawings. Extensive field documentation supported the staging drawings. Additionally, mechanical piping, machine design, structural, foundation, and architectural disciplines were involved, providing comprehensive construction and start-up assistance.
The engineering phase of the project spanned approximately 12 months, during which RTP ensured meticulous planning, coordination, and execution. The result was a highly optimized pickle line, driving increased productivity and superior quality control.