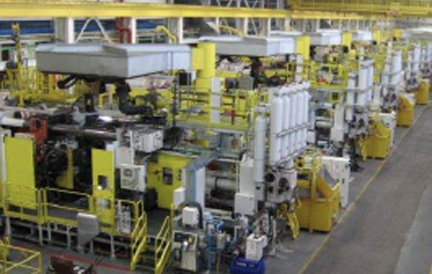 General Motors Powertrain
Design and Construction Engineering for a State-of-the-Art GM Die Casting Equipment Facility
RTP played a pivotal role in the development and construction of a new GM die casting equipment facility, specifically designed for the production of aluminum transmission housing and cases. The project also involved redesigning underperforming subsystems and implementing safety enhancements.
Our team developed multiple concepts for robotic die cast cell arrangements and plant layouts, with consideration to the challenges posed by an older building with tight column spacing. Upon selection of a concept, RTP developed design drawings for various aspects of the project, including the process layout of the robotic die cast cell, mechanical and electrical utilities installation for the die cast machines and cells, safety enhancements, equipment installation jigs, and more.
Our team's support was crucial throughout all phases of this project, including on-site construction assistance engineering during the installation phase, an extensive six-week on-site OEM review in Shenzhen, China. RTP also provided PE certifications for specific components, such as the shot rod changeout crane and davit arm attachment on the die cast machine.
Throughout the two-year project duration, RTP's expertise in engineering, design, and construction facilitated the realization of a state-of-the-art GM die casting equipment facility. The facility's advanced capabilities, enhanced safety features, and efficient production processes are a testament to RTP's commitment to excellence.