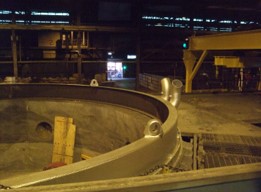 Arconic Corporation's No. 4 Melting Furnace Replacement and Refurbishment Project
In collaboration with Arconic Corporation in Bettendorf, IA, RTP embarked on a transformative project to upgrade the Ingot Plant's No. 4 Melting Furnace, No. 4 Holding Furnace, and repair the No. 4 Casting Pit Equipment. The project aimed to improve efficiency, reduce maintenance requirements, and incorporate the latest available technologies to optimize operations.
The scope of work encompassed three sets of furnaces in the Ingot Plant, each modified over the years to integrate advancements and enhance functionality. RTP closely collaborated with Arconic personnel, redesigning and detailing the No. 4 Melting Furnace to incorporate improvements derived from other furnace retrofits.
To ensure precision and seamless execution, RTP utilized Autodesk Inventor 3D modeling to create a comprehensive model of the replacement furnace. Detailed drawings of ancillary equipment, such as burner supports, doors, door mechanisms, and piping systems, were also produced. Technical specifications for equipment procurement and installation were meticulously prepared by RTP to meet the project's high standards.
RTP oversaw all aspects of this project from inception to completion. We evaluated bids and provided recommendations for equipment procurement and contracting services. We also developed and maintained a comprehensive project schedule. Throughout the 45-day outage, RTP's expert team provided 24-hour construction assistance coverage, ensuring smooth execution and timely problem-solving.