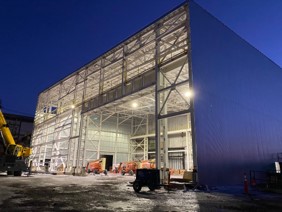 Sterling Steel Company, LLC
Successful Billet Reheat Furnace Installation at Sterling Steel Company
RTP took on the challenge of installing a state-of-the-art Billet Reheat Furnace for our client. The project encompassed the installation of new equipment to efficiently receive, transfer, rotate, and deliver billets into and out of the new furnace, as well as seamlessly integrate with existing rolling mills. This endeavor aimed to replace the aging billet furnace, a vital component of the plant's operations.
Working diligently to minimize disruptions, RTP meticulously planned the project to ensure the installation could take place without hampering ongoing plant operations. A planned 21-day outage in 2021 was strategically scheduled to facilitate a smooth transition to the new furnace. Limited available space posed a challenge, and RTP presented several options for installing the equipment, ultimately selecting a new building located between the existing mill building and a high voltage substation.
This location required careful reworking of electrical equipment and underground utilities. Additionally, one end of the Billet Yard, responsible for storing and moving billets using an overhead crane on an outside runway, had to be removed to accommodate the installation. Transition and equipment spanning sections of the Billet Crane Runway were skillfully engineered to ensure seamless operations.
Throughout the project, RTP played a pivotal role in providing cost estimates to secure funding from Sterling Steel Company's parent company. We meticulously maintained a total project schedule and offered construction assistance for all disciplines. RTP played a critical role in evaluating and selecting the furnace equipment while producing comprehensive installation drawings and specifications for procuring and installing support equipment and structures.
The project also involved the design of a closed-loop cooling system for the furnace, and RTP carefully evaluated quotes from equipment suppliers and integrators to ensure the highest standards of efficiency and performance were met.
By collaborating closely with Sterling Steel Company, LC, RTP's team ensured the successful implementation of this vital Billet Reheat Furnace, contributing to enhanced steel production capabilities and positioning Sterling Steel for continued success in the industry.