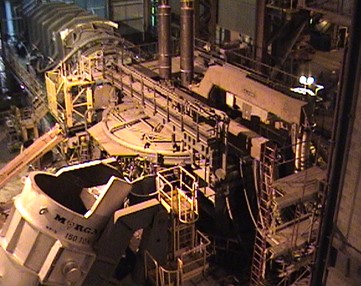 Wheeling-Pittsburgh Steel Corp
Revolutionizing Steel Plant Operations with Award-Winning EAF Melt Shop
Recognized as the "Industrial Project of the Year," RTP led the way in providing comprehensive design and engineering services for an Electric Arc Furnace (EAF) Melt shop at a prominent steel plant. Our innovative solutions included cutting-edge scrap preheating and environmental control technology, a powerful 250-ton AC electric arc furnace, and a state-of-the-art 250-ton ladle furnace equipped with a twin station swinging gantry.
To ensure optimal performance, we integrated a high-capacity fume collection system, boasting a 1,200,000 ACFM baghouse system. Additionally, we streamlined alloy and flux handling systems and auxiliary equipment to facilitate seamless operations.
From conducting a thorough field investigation to preparing detailed specifications and drawings, RTP's expertise played a pivotal role throughout the project's lifecycle. Our diligent efforts encompassed purchasing, vendor drawing review, and filing of construction drawings.
The successful completion of this transformative project significantly boosted our client's operational efficiency, setting new standards in the steel industry. At RTP, we take pride in our ability to deliver unparalleled value and excellence to our esteemed clients.