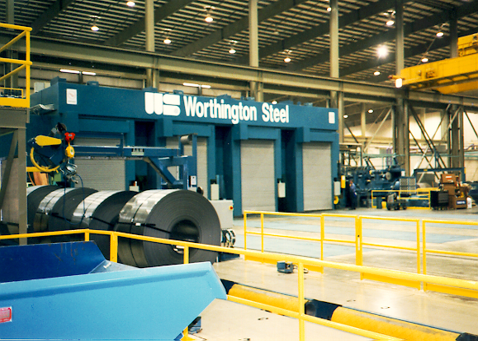 A Cutting-Edge Cold Mill Facility
At Worthington Steel Co in Decatur, Alabama, RTP undertook the ambitious task of designing and constructing a cutting-edge Cold Mill Facility, encompassing a sprawling 750,000 square foot steel processing center on a Greenfield site. This state-of-the-art facility, serviced by rail and truck deliveries, features advanced equipment, including a new Pickle Line, Four Stand Tandem Cold Mill, Batch Hydrogen Annealing, Temper Mill, Hot Rolled Slitter, Cold Rolled Slitter, and packaging capabilities to cater to each area's unique requirements. The facility showcases an impressive production capacity, capable of producing over 900,000 tons of steel annually.
To expedite the project's completion, we employed separate contracts for site improvements, building shell construction, and major process equipment supply. Subsequently, Worthington entered into a Target Price Agreement with a Joint Venture consisting of The Industrial Company (TIC) and R.T. Patterson Co., Inc., specifically focusing on design engineering, construction, and construction management for the installation of major process lines and support equipment.
RTP's unwavering commitment to innovation, precision, and efficiency enabled the successful realization of Worthington Steel Co's Cold Mill Facility. This cutting-edge facility marks a significant milestone in the steel processing industry, demonstrating Worthington's commitment to delivering high-quality products on a large scale. The seamless integration of advanced equipment and state-of-the-art processes in the facility ensures enhanced productivity and a prominent position as a leader in the steel manufacturing industry.