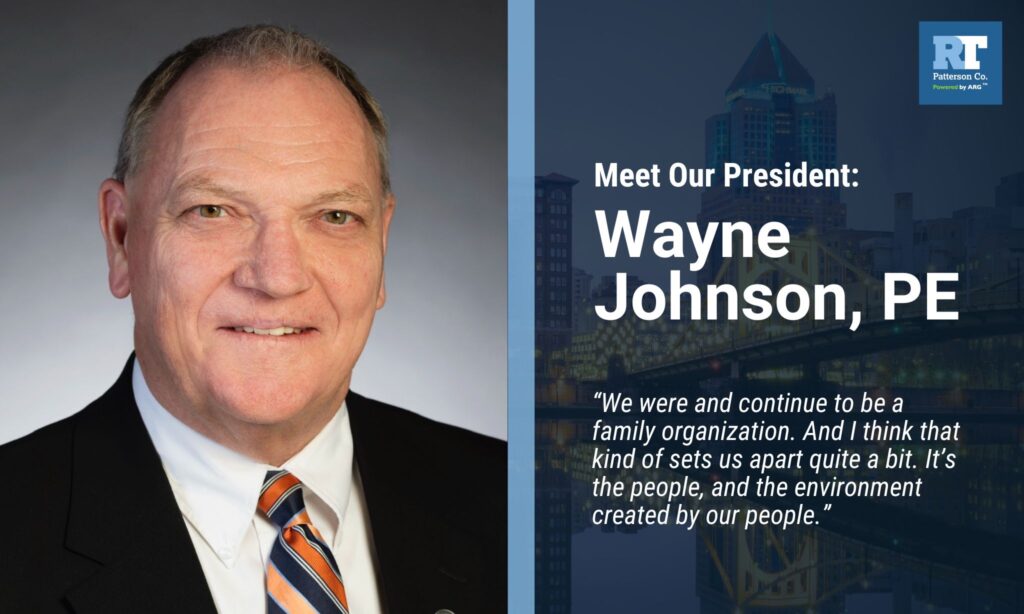 With a wealth of engineering and leadership experience spanning 40 years within R.T. Patterson, Wayne Johnson, PE embodies the very essence of our industrial engineering firm. His journey mirrors the evolution of RTP, from its founding to becoming a leading force in the engineering landscape. Wayne's visionary leadership has not only steered us through industry shifts but has also fostered an environment where innovation and collaboration thrive. In this blog post, we dive into Wayne's unparalleled contributions as our President, exploring how his expertise continues to drive RTP's commitment to excellence and lays the groundwork for future successes.
As someone who has dedicated over 40 years to R.T. Patterson, what's motivated you to stay with the company for such a significant period?
During college I, I worked at RTP for a summer job as a draftsman. After graduating college, I went to work for one of the largest engineering companies in the country, but I realized the work was very limiting, you were pigeonholed into only one bit of a project and that's all you did every day. So after about six months of doing that, I thought I'd like to come back to Pittsburgh, and RTP immediately came to mind. At RTP, the projects you were a part of weren't huge projects, but you did every aspect of it, you weren't doing just in charge of one little piece. I started advancing in my career, from Project Manager to General Manager of the Pittsburgh operations, to Vice President of Engineering, and then to President of RTP when Roy Patterson stepped down. As I was doing these interesting projects and advancing my career, I felt no need to go look elsewhere. I truly enjoy working here!
What do you believe sets your team apart from your competitors?
We were and continue to be a family organization. RTP really looks out for their employee's well-being and happiness in the workplace, and what's happened over the years is when people come here, they come to stay. We actually have several people that have put in around 25 years, and a few that are approaching 40 years! We even had one employee who was with us for 50 years before retiring. And I think that kind of sets us apart quite a bit. It's the people, and the environment created by our people.
What is RTP looking forward to as a new member of the ARG family?
I am genuinely excited about moving the company into new markets, with a special emphasis on mentoring the new generation of engineers. Most of our people are very experienced, being in the later stages of their career with many years under their belts. I'm really looking forward to creating a synergy that blends the fresh perspectives of our new engineers with the seasoned expertise of our veterans to see how we can continue to expand RTP for the next 60 years as a top industrial engineering firm serving clients across the United States.